Dental care is extremely important, but finding the right dentist isn't always an easy task. Everyone seeks a dentist who is both professional and friendly, with a helpful staff that makes things easy. At Cyprus Family Dental, right outside of West Valley, we can offer all of the above. A friendly dentist committed to his patients, Dr. Cantwell offers a wide variety of dental services. In our office, you can rest assured you'll receive the necessary treatment for any of your dental needs.
If you're in the West Valley or even Salt Lake area, consider visiting our professional dentist here in Magna. From simple checkups and cleanings to full mouth restorations, we can do it all at Cyprus Family Dental. Dr. Cantwell and his helpful staff are here to ensure your teeth are healthy and fully functioning. Don't put off going to the dentist anymore and come see us today.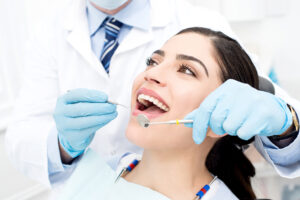 Quality Dental Care for the Whole Family
Regardless of age, we offer a variety of general dentistry services here at Cyprus Family Dental. Whether you just need a simple checkup or complete cleaning, we can take care of it. Take a look at our general dentistry services below:
Routine Examinations

: Every patient should visit Dr. Cantwell twice a year for checkups and teeth cleanings. We'll also take X-rays to ensure your teeth are in proper health.

Tooth-colored Fillings

: If cavities are a problem, we offer tooth-colored fillings to match the natural look of your tooth.

Extractions

: For problems such as crowded teeth, gum disease, or risk of infection, tooth extractions may be necessary. Rest assured, Dr. Cantwell will make the process as comfortable as possible.
Get a Smile Makeover with our Cosmetic Dentistry Services
Cosmetic dentistry can help you attain a brand new smile full of shining white teeth. Our cosmetic dentistry services can tackle a number of problems. Check them out below:
Teeth Whitening

: For teeth whitening services, you can choose in-office or at-home treatments to acquire the white smile you desire. Our teeth bleaching options are sure to impress.

Dental Veneers

: Veneers are a great way to repair problematic teeth. They'll repair discolored, misshapen, and misaligned teeth as well as improve gaps.

Dental Implants

: Replace missing teeth or dentures with dental implants. They'll restore functionality to your mouth, providing a natural look and feel.

Invisalign

: As an alternative to traditional braces, Invisalign continues to grow in popularity among patients. Treatment time is typically shorter than metal braces, not to mention the level of comfort and ease they Invisalign presents.
Our dental services extend even further than what's listed above. We offer a number of other services for any dental care need. For patients who struggle with anxiety and stress when visiting the dentist, sedation dentistry will keep you calm and comfortable throughout treatment.
Come Visit Us For Quality Dental Care
Like we said, Cyprus Family Dental is your best choice for dental services in the West Valley area. Located nearby in Magna, Dr. Cantwell strives to provide his patients with the best care possible. We're sure we can handle any dental problem. If you're searching for a nearby dentist, choose Dr. Cantwell!
Feel free to give us a call at 801.250.0203 with any questions. You can also click here to contact us today.