Can you remember when you had your last dental exam? Do you feel like you put off your dental care due to a busy schedule or dental anxiety? Dental patients of Dr. Cantwell can always know what to expect on their next checkup and dental cleanings in Magna. Families and patients of all ages have been entrusting us with their oral health for years! We make sure your dental appointments are convenient for your busy schedule, and you'll know exactly what to expect during your next dental exam in Magna. Here are some frequently asked questions that may help you plan your next visit:
HOW LONG DOES A DENTAL EXAM (MAGNA) TAKE?
If you are coming in for a new patient appointment, you can expect it to take more time than a regular checkup. This is due to all the additional information we gather to serve as a baseline for your oral health. This baseline will also make it easier to see any health changes over time.
The exam portion of your dental check up will usually only take around 10 minutes. However, you can expect the cleaning portion and oral assessments to take up most of the time. The entire new patient appointment can last anywhere from 60-90 minutes for adults. Children's appointments generally require less time. In addition to your examination for cavities and existing dental work, Dr. Cantwell or a hygienist will do the following:
Occlusal Evaluation—We examine the way your teeth come together when you bite since this can reflect problems like gum disease, tooth decay, sleep apnea and stress-induced bruxism.
TMJ Assessment—In addition to the Occlusal evaluation, we will also evaluate the movement patterns of your jaw, joint and surrounding tissues. It is important for patients to let us know about any TMJ pain or frequent headaches so we can help right away.
Oral Cancer Screening—Since precancerous tissue can be hard to spot on your own, we will carefully screen for abnormalities that may need to be monitored or biopsied. There is still risk for oral cancer even if you do not drink alcohol or smoke, so we make sure to take every precaution during the screening process. 
Periodontal Screening—Gum disease is a leading cause of bad breath, receding gum tissues and tooth loss. During your visit we will measure your gum and bone attachment levels around your teeth to catch any signs of gum disease.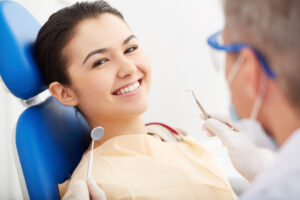 HOW OFTEN WILL I HAVE DENTAL X-RAYS TAKEN?
Digital x-rays are used to screen for gum disease, decay, cysts, impacted teeth, and other issues. Generally, we recommend having x-rays done once a year. However, the type and frequency of dental x-rays may differ for each patient depending on their circumstances.
WHAT HAPPENS DURING A DENTAL CLEANING (MAGNA)?
For healthy teeth and gums, you can expect a (preventive) dental cleaning. This includes gently removing plaque and calcified tartar buildup across tooth surfaces and along the edges of the gums. Once the buildup has been removed, we then polish and remove any surface stains on your teeth. If you have heavier buildup in certain areas, we will discuss those areas and how to increase your home care.
For patients with active gum disease, a more therapeutic type of dental cleaning for periodontitis is required. If this is the case, Dr. Cantwell or a dental hygienist will review the process with you and get you scheduled for an additional deep cleaning.
HOW OFTEN SHOULD I SCHEDULE A DENTAL EXAM IN MAGNA?
We recommend scheduling a preventative care appointment every six months for those with healthy teeth and gums. These dental cleanings and exams are shorter than the initial new patient appointment. As your family dentist in Magna, our goal is to help you keep your gums and teeth healthy your entire life. Through our preventative care approach and regular cleanings, you can reduce your risk for gum disease, cavities, dental emergencies, oral cancer, and other dental care costs down the road.
CALL OUR DENTIST| MAGNA, UT
Is it time to schedule a dental checkup or dental exam and cleaning? Magna families can call Cyprus Family Dentistry today to schedule their next dentist appointment. New patients are always welcome here! Contact us today!