It's probably safe to say we've all put off a dental exam or cleaning at one point or another. Sometimes life just gets busy or maybe it's just a little dental anxiety preventing treatment. Patients may find themselves tempted to skip dental appointments but the truth is, skipping routine dental appointments can put your oral health and overall health at risk.
It's important to see your dentist at least every six months for a cleaning and exam. Not only will going to the dentist keep your teeth and gums healthy, but your dentist can prevent tooth decay and gum disease that can lead to more serious issues like infection and abscesses. In addition to infections, gum disease has been connected to pneumonia, rheumatoid arthritis, and Alzheimer's disease. It's important to remember your body and mouth are intricately connected and they both require ongoing care for optimal health.
THE GOOD, THE BAD, & THE BACTERIAL INFECTION 
Plaque is one of your biggest oral health threats and will start to form as soon as you consume anything besides water. Plaque is a sticky film made up of bacteria that can slowly eat away at your tooth enamel and destroy healthy tooth structure. Consequently, this is why cavities are generally considered the first warning sign of plaque damage. Sure, one cavity might not be much to worry about, but uncontrolled plaque build up can cause more serious problems.
Brushing your teeth after you consume sugary/acidic beverages and foods can help manage plaque buildup. However, brushing and flossing alone can't reach every surface in your mouth to remove plaque. This is why it's important to have professional dental cleanings every six months. Dental Hygienists have the right tools to remove hardened calcified plaque (tartar) along the gumline and in between your teeth that you can't remove yourself. Removing tartar and bacteria will help protect your teeth from cavities, gum disease, tooth loss, complications from diabetes and heart conditions. Removing oral bacteria will also help prevent bad breath.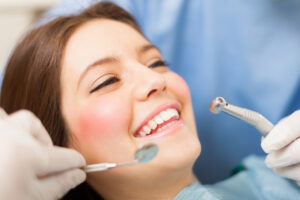 WHAT TO EXPECT AT YOUR NEXT DENTAL CHECK UP
The experienced dental team at Cyprus Family Dental is skilled at preventing and treating developing problems sooner than later. This allows us to treat the problem while it is still small, less invasive, and usually less expensive. When you come for you next dental exam and cleaning, you can expect the following:
Plaque buildup and tartar removal

Tooth stain removal from enamel polish

Screening for tooth decay and gum disease

Dental x-rays when needed

Oral cancer screening

Teeth checked for cavities, cracks, and chips

A jaw and bite evaluation for abnormalities

Examination of current tooth restorations 

Treatment put in place for any current issues

A review of your at-home care if needed and recommendations for better care/products

Answers to your questions and concerns
WHY IS IT IMPORTANT TO HAVE DENTAL EXAMS EVERY SIX MONTHS?
We definitely understand the urge to skip your dental appointments. Going to the dentist can be hard to fit into a busy schedule and sometimes can be anxiety-inducing. However, problems like tooth decay (cavities) and gum disease can lead to pain and sometimes tooth loss. Having regular dental exams allow us to catch these issues early on and treat them before they become painful or expensive!
Schedule a dental appointment immediately if you notice any of the following:
Tooth sensitivity to hot, cold, sweet, or acidic foods and beverages

Toothaches or abscess around a tooth

Pitting or a hole in a tooth

Bleeding gums

Constant bad breath

Chipped or damaged tooth

Mouth sores lasting more than a couple of weeks
GOOD DAILY ORAL HYGIENE IS KEY BETWEEN DENTAL CLEANINGS & EXAMS
The best way to protect your teeth in between dental cleanings & exams is to brush twice a day, floss daily, and use an antibacterial mouthwash to kill germs. It is also important to drink plenty of water, eat a balanced diet, and limit unhealthy foods and drinks. So if you happened to skip an appointment last year or maybe your home care is lacking, our team can quickly get your oral health back on track. Our goal at Cyprus Family Dental is to provide you with everything you need for a healthier and happier smile! To schedule a dental cleaning and exam, or to find out more about the services we offer at Cyprus Family Dental in Magna, call 801-250-0203 or contact us here.