What's one of the first things you see when you meet someone? Some might say eyes, but what the majority of people see when meeting someone is their smile.  A survey for USA Today by Philips Sonicare found that 47% of respondents chose a great smile as the feature that most attracted them. Second was eyes, with 31%. If you're constantly hiding crowded or crooked teeth, it might be time to think about creating the smile you've always wanted. It's never too late, and it may be easier and faster than you think with Invisalign. If you're stuck deciding between Invisalign and braces, we can help break down the many advantages and benefits of Invisalign. 
WHAT IS INVISALIGN?
Invisalign is an alternative treatment to traditional braces used to correct dental issues. With Invisalign, teeth are aligned with the use of clear guides that fit on your teeth. It's almost impossible for anyone to notice. There are pros and cons for both Invisalign and braces, but the benefits that Invisalign can provide just may surprise you!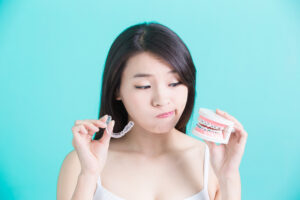 BENEFITS OF INVISALIGN
There's many benefits of using the Invisalign aligners, including less time at the dentist, they are easy to clean, offer convenience, and so much more! 
(N0. 1) EASY TO CLEAN
Everyone knows traditional braces are a pain to clean & maintain. Whether you are enjoying a family meal or eating out, keeping your teeth and brackets clean can be a pain. When using Invisalign, you can easily remove your aligners while eating. When it's time to re-insert them, just brush them with toothpaste and warm water before use.
(N0. 2) FEWER OFFICE VISITS
Traditional metal braces require frequent office visits to tighten wires and rubber bands. Invisalign allows you to enjoy more time between appointments since you receive aligner trays for the current phase and the next several phases in advance. This allows you to move on to the next phase without another office visit. Invisalign gives you the freedom to enjoy more activities while ensuring the repositioning and alignment process of your teeth.
(N0. 3) NO FOOD RESTRICTIONS
What's one of the best things about Invisalign? How about the fact you can eat and drink whatever you want since they are removable?  This also decreases the amount of time it takes to clean your teeth after eating. However, you'll want to make sure to rinse your mouth and brush your teeth before reinstalling the aligners.
(N0. 4) THEY LOOK BETTER
Most orthodontic patients don't want to stand out, especially adults. Invisalign helps hide your dental treatment since the aligner trays are clear and nearly invisible. Unless you tell people, most people won't realize you're wearing them. They are definitely more discreet than braces!
(N0. 5) MORE COMFORTABLE
Even if you've never worn braces before, the idea of metal in your mouth is all you need to know. The issues of discomfort with traditional braces is no secret. Traditional braces use tension with attached brackets and wires to reposition the teeth. The discomfort only gets worse as the tension increases causing soreness until the tension decreases. Wearing Invisalign enables the wearer to remove the trays for eating, brushing, and flossing teeth. Invisalign decreases the discomfort of pain and scraping against your tongue, cheek, or gums.
(N0. 6) THEY ARE SAFE FOR CHILDREN AND ADULTS
Invisalign aligners are recommended for adults, adolescents, and children. Dentists will start to monitor children for the potential need for braces or aligners at the age of 8, however, many dentists often suggest waiting until your child is 13 or 14 to get Invisalign. This is mostly due to the responsibility of maintenance and the chance of them losing the aligner tray. While age will not guarantee a clear aligner won't get lost, it may be wise to wait until your child is mature enough to handle Invisalign.
(N0. 7) FIX MOST DENTAL ISSUES
The need for Invisalign or braces will depend on the extent of a person's dental issues. Alignment issues requiring Invisalign or braces include:
Crossbite

Crowded Teeth

Gap Teeth

Open Bite

Misaligned Teeth

Underbite

Overbite
Orthodontics will help bite and overcrowding issues which will also help decrease the chance of cavities or gum disease. If you are interested in Invisalign, it is recommended to meet with a dental professional to discuss treatment options. Invisalign is not always recommended for all cases but your dentist can help you know which treatment will suit your individual needs.
(N0. 8) BETTER THAN OTHER CLEAR ALIGNERS
Business competitors will always attempt to offer similar products that claim to provide similar results. However, the quality and/or price may cost you more in the long run.  New companies offer teeth straightening products even though dental monitoring isn't part of the package. Some of these companies are offering the same results as Invisalign for a lower price, however, the results are not ideal. Be sure to do your research and make sure office visits are included to ensure the products are working and no other issues have surfaced.
RELY ON AN EXPERIENCED LOCAL DENTIST
Now that you can know the benefits of Invisalign, you can decide whether or not you would like to try Invisalign or go with traditional braces. Whatever you decide, it's time to speak with your experienced local dentist. Contact Cyprus Family Dental today to see if Invisalign clear aligners are right for you. Give us a call at (801) 250-0203, or contact us here today to set up your next appointment. Contact us today!