While every dentist goes through extensive training, receives the necessary degrees and certifications, the truth is, not all dentists are created equally! When it comes to family dentistry, you want to make sure you choose the right family dentist that makes sense for your whole family.
When you're ready to choose a family dentist, you can look for some specific things to ensure you're going to the right place. To start, you want to make sure the family dentist you see is equipped to help your children with all their dental needs from the early years on. The beauty of family dentistry is that it is designed to ensure the whole family gets the dental care they need. Your family dentist should be able to provide well-rounded services and solutions for each individual. Here are a few other things to look for in a family dentist:
QUALIFICATIONS & EXPERIENCE
You want to find a dentist who is committed to staying on top of the latest technology and techniques. Don't just trust any dentist for your family's oral health needs. Do your research properly. For a dentist to practice, he or she must have certain certifications. Check if the dentist in question has all the required qualifications, certifications and if they offer high-quality dental care. Additionally, the qualification should be paired with positive reviews. It's always worth the time to find out what type of experiences previous clients have had. You can easily find this information online. It's also a good idea to check with family members and friends for good recommendations for a family dental office. When choosing a new dentist, select one with good qualifications, experience, and can provide dental care for all ages.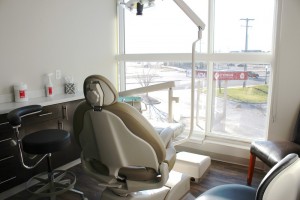 COMFORTABLE ENVIRONMENT
A good family doctor should create a comfortable environment for every member of the family. You may want to visit the clinic before hiring a family dentist in Magna. If your child fears going to the dentist, check for child-friendly features such as playrooms to ease the tension. It is also important to observe how the staff welcomes and treats the patients. Does the office have a clean waiting room and enough furniture to accommodate your family? The right family dentist should be able to provide a positive experience for every member of the family.
AFFORDABLE DENTAL CARE
The cost of dental care varies from one doctor to another due to location, standards of care, and operational costs. Depending on your budget, you should contact a family dentist that is affordable but offers quality services. Another thing you should look for apart from affordable dental care is if they accept your insurance. Dental services and procedures can be costly. Choose a family dentist that works with your insurance company to ease the financial burden. If you do not have insurance cover, look for a practitioner that offers fair out-of-pocket prices and convenient payment plans.
SERVICES PROVIDED
This is one of the most important factors to consider when selecting a family dentist. If possible, choose a family dentist who provides dental services that meets all your dental needs in one place. Examples of dental care services to look for include teeth whitening and cleaning, periodontal care, root canal treatment, tooth extraction, preventative and cosmetic care. Another important factor to consider is do they offer emergency dental services? While some dental issues can be diagnosed early enough and prevented, others such as broken teeth and gum swelling are unpredictable and require immediate attention. Most dental emergencies occur when least expected so it's important to have a family dentist in Magna that offers emergency services. Having a dental office that provides emergency dental services will save you money and the stress of going to another dentist.
CHOOSING THE RIGHT FAMILY DENTIST IN MAGNA, UT
If you've been looking for a family dentist who offers complete dental services for your whole family, look to Cyprus Family Dentistry in Magna, UT. We provide compassionate and comprehensive dental care services to individuals of all ages, including general dentistry, preventative, restorative, and cosmetic oral care. We are confident that we can provide the best family dental services for you and your loved ones. Give us a call, or contact us here to make an appointment. We'll help make sure your family's health stays on track!