How much do you really know about your teeth and oral health? Most of us probably know the basics but here are some facts about your mouth that may surprise you.
THE HARDEST SUBSTANCE IN THE BODY IS TOOTH ENAMEL
Believe it or not, tooth enamel is the body's hardest substance. Yep, it's even stronger than your bones. Tooth enamel is the white layer that creates a bright smile & is composed of the highest percentage of minerals (96 %) in the human body.  Enamel consists of calcium phosphate, a rock hard compound that gives enamel its strength. This durability is critical since enamel protects teeth from decay. 
Even though enamel is very strong, it can sustain damage. Foods with dark piments, soda, tea, coffee, and juices can all easily stain the enamel or your teeth. Teeth that were once very white can become discolored with hues of brown and yellow. Because of this, teeth whitening has become very popular to remove unsightly stains and to restore the appearance of tooth enamel.
BRUSHING ONLY REACHES 60% OF TOOTH SURFACES
Without Flossing, brushing only reaches about 60 % of tooth surfaces. Moving floss up and down between your teeth helps break up plaque and tartar that is stuck in hard to reach areas. So you can see flossing is just as important as brushing. Sadly, 44% of adults admit they never floss! 
So consider this. If you never floss, a full 40% of your tooth surfaces will never be cleaned! Toothbrushing alone simply can't reach the crevices between the teeth. Without flossing, plaque and tartar will continue to accumulate and will eventually cause gum disease. Those with gum disease (also known as periodontal disease) have an increased risk for heart attacks, stroke, or other serious cardiovascular events by two to three times.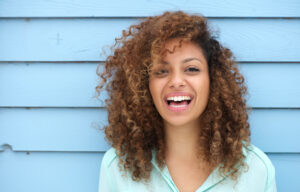 PROBLEMS WITH ORAL HEALTH ARE LINKED TO DISEASE WITHIN THE BODY
Oral health issues like gum disease are closely linked to serious conditions like type 2 diabetes, digestive dysfunction, and heart disease as stated previously. 
Gastrointestinal Dysfunction
The condition of your mouth directly influences your gastrointestinal health, as the entry point to the digestive system. This explains why poor oral health is shown to contribute to Crohn's disease, inflammatory bowel disease, and ulcerative colitis. When an unhealthy mouth becomes a home for pathogens, oral bacteria can then easily move into the gut and create additional complications. 
Heart Disease
Did you know that heart disease is one of the leading causes of deaths worldwide? It develops plaque building up on the walls of the coronary arteries. So how is it linked to your mouth? Well, it turns out that gum disease triggers the formation of microbial pathogens that cause inflammation, and then attach to fatty plaques in the bloodstream  which leads to buildup and blockages in the arteries. Who knew?
Diabetes
Recent studies have firmly established a two-way link between gum disease, also called periodontal gum disease, and diabetes. Periodontal gum disease is the most common and serious mouth problem related to diabetes. It's hard to know which one begins first, but severe periodontitis can jeopardize glycemic control and increase the chance of diabetes developing.
YOUR MOUTH CONTAINS MORE THAN 6 BILLION BACTERIA
You can't see or feel it, but your mouth is jam packed with bacteria! In fact, the average adult mouth contains more than 6 billion bacteria. Oral bacteria are incredibly diverse. While some are essential for keeping your mouth healthy, others only cause damage like gum disease and cavities. The productive bacteria actually help protect your mouth from toxins and pathogens. It's important to keep the bacteria in your mouth balanced in order to fight inflammation, prevent decay, and maintain a strong immune system. 
DID YOU KNOW SALIVA HELPS YOU TASTE?
Most people already know saliva keeps your mouth moist and also helps digest food. However, did you know it actually makes it possible to taste food as well? You might be thinking, isn't that what taste buds are for? Your taste buds are definitely responsible for your sense of taste but without enough saliva to dissolve food, taste would almost be impossible. So until saliva breaks down food, the receptors on your tongue can't detect food molecules. If you have any doubts, try it for yourself. Wipe your tongue with a paper towel and then bite into something tasty. You'll see the proof for yourself!
LEARN MORE ABOUT YOUR ORAL HEALTH TODAY
Want to learn more about your oral health and how to prevent cavities, gum disease, and other health issues? Contact your Magna, UT dentist today and schedule your next appointment at Cyprus Family Dental! Our dental team is here to help you with any oral care concerns you may have. Give us a call at (801) 250-0203 or contact us here to make an appointment. We'll help make sure you and your family's oral health is where it needs to be.