Plain and simple, dental implants are an effective way to replace missing teeth. Whether you struggle with uncomfortable dentures or you can't stand the sight of missing teeth, dental implants are most likely the best option for you. As a long-term solution to problematic teeth, implants have advanced greatly in recent years, utilizing quality materials suited for the human body. Restore full functionality to your teeth with dental implants!
At Cyprus Family Dental, we know the discomfort dentures can sometimes cause, as well as the struggles of living with missing teeth. Fortunately, we offer dental implants in Magna for our Salt Lake City area patients. If you're sick of dealing with missing teeth or dentures, take a moment to learn about dental implants and what they could do for you.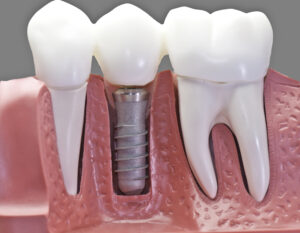 What's The Process For Receiving Dental Implants in Magna?
Depending on the health of your gums and the amount of bone you have in the area of missing teeth, the dental implant process can vary. If there is not sufficient bone, you'll need to undergo a bone graft to prep the area for implants. If your bone is ready to receive implants, the process can be quite simple, though it's a gradual process. After an initial consultation with Dr. Cantwell, the process of receiving implants typically consists of a few steps, which are as follows:
Placing the Implant

: The first step involves placing a titanium post into the jaw bone. Patients must allow three months for the bone and implant to fuse before the next step in the process.

Attaching the Abutment

: Once healed, your implant will be ready to be attached to the abutment, which will connect the implant to the crown (your new tooth). An incision will be made to expose the implant.

Placing the Crown

: In the final step, your new tooth will be cemented or screwed to the abutment. From here, the process is finished!
Generally, the entire implant process can take up to 6 months, but the end results are surely worthwhile. You'll have a fully-functioning tooth that looks and feels natural. Now you can start reaping the benefits of dental implants.
What Dental Implants Can Do for You
There's a variety of benefits that come with your newly placed dental implants. From functionality to appearance, implants present a number of advantages. Take a look:
Immediate results

Enhanced appearance

Higher self-esteem

Convenience

Improved functionality

Enhanced oral health
Don't forget: Dental implants still require proper oral care, such as brushing and flossing just as you would with your natural teeth. With this, you can ensure a long life for your new teeth.
Contact Cyprus Dental to Receive Your Brand New Teeth!
Clearly, the benefits of receiving dental implants are extensive. With implants, you can improve the appearance of your teeth while restoring functionality! Find out today if you're a candidate for implants.
Contact Cyprus Family Dental in Magna today to schedule a consultation with Dr. Cantwell. You can also call us at 801.250.0203. We're here to help you restore your smile and your health!