Are you looking for a way to brighten your smile and boost your confidence? Teeth whitening is a safe, affordable and effective way to enhance the brightness of teeth and give them an improved aesthetic look. Whether you choose in-office teeth whitening or take home teeth whitening kits, teeth whitening can provide a safe and lasting way to improve your appearance. Read on for more information about the benefits of teeth whitening and how it can give you the smile of your dreams!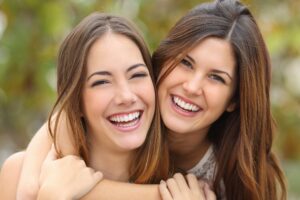 IN-OFFICE WHITENING VS. AT HOME TEETH WHITENING
When it comes to teeth whitening, there are a variety of options available depending on your needs and goals. In-office teeth whitening is one choice that can give you quick and dramatic results, while take home teeth whitening kits provide a more affordable and gradual approach to teeth whitening. Whichever option you choose, teeth whitening can help you achieve brighter, whiter teeth that will boost your self-confidence and promote better oral hygiene. With teeth whitening, you can take the first step towards a brighter smile!
THE BENEFITS OF PROFESSIONAL TEETH WHITENING
When teeth whitening is done correctly, it can provide a range of benefits that enhance your appearance and boost your confidence. By getting professional teeth whitening, you can:
-Improve the brightness and whiteness of teeth
-Enhance your smile
-Boost self-confidence in social situations
-Improve overall oral hygiene
-Help teeth look younger
-Expect rapid results
-Experience safe teeth whitening
-Avoid teeth sensitivity
-Add the "wow" factor for special occasions
There are a number of advantages to teeth whitening, both in terms of aesthetics and long-term oral health. Teeth that are whiter and brighter can improve your appearance and give you the boost of confidence you need. At our practice, we offer teeth whitening services to help you achieve the smile of your dreams. We can provide an in-office teeth whitening session for quick, dramatic results or a take home teeth whitening kit for gradual, more affordable teeth whitening. Schedule an appointment with us today and let us show you what teeth whitening can do for you! For more information, please visit our teeth whitening page. We look forward to helping you achieve a brighter and whiter smile.
PROFESSIONAL TEETH WHITENING IN MAGNA, UT
Teeth whitening is a great way to improve your teeth and smile without having to invest in expensive treatments or wait for long periods of time. It can be done quickly and efficiently without having to go through multiple visits to the dentist. With teeth whitening, you can get your teeth looking brighter and feeling healthier in no time! You can choose from different teeth whitening options, such as in-office teeth whitening procedures or take home teeth whitening kits, both of which provide great results that last. Consider teeth whitening today if you're ready to take the next step towards a brighter and healthier smile!
CONTACT CYPRUS FAMILY DENTAL IN MAGNA, UT
If you want to learn more about teeth whitening options for yourself, contact your local dentist at Cyprus Family Dental today to discuss the benefits of teeth whitening and what option is best for you. Whether you opt for in-office teeth whitening or take home teeth whitening kits, you can be sure that you'll get brighter, whiter teeth. If you're in the Salt Lake City, West Valley, or Magna area, give us a call at 801-250-0203 or contact us here today so that we can get you started on safe and successful teeth whitening.
Sources:
https://www.colgateprofessional.com/article/teeth-whitening-benefits-for-oral-health
https://www.mayoclinic.org/