Visiting your dental office for a dental checkup every 6 months is a great way to keep your oral health at its best. Depending on your dental health, visits to your dentist in Magna could be more frequent. Because six months is a long time between checkups, certain issues may require a visit in between your regular dental checkups.
SIGNS YOU NEED TO VISIT YOUR DENTIST IN MAGNA
It can require a lot of effort to keep your teeth and gums healthy so it's important to pay attention to changes in your oral health, especially if they are sudden. The following are six urgent signs that will most likely require a dental appointment as soon as possible.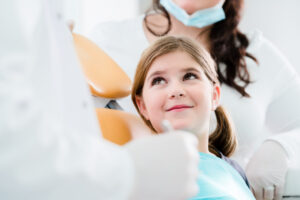 (No. 1) TOOTH PAIN OR AN ONGOING TOOTHACHE
Tooth pain that does not go away is definitely a sign that something is wrong. Tooth pain could be a sign of oral complications and it's important to make a dental appointment as soon as possible. 
(No. 2) BLEEDING GUMS
If your gums are bleeding after brushing or flossing, there could be a serious underlying problem. Bleeding gums is often a sign of gingivitis—an early form of gum disease. Bleeding occurs when the gums become infected from bacteria. In some cases bleeding after flossing can occur, especially if you push too hard or haven't flossed for a while. If the bleeding only lasts a day or two,  you are probably fine. However, you will want to make a dental appointment as soon as possible if the bleeding continues.
(No. 3) CONSISTENT HEADACHES
It's important to pay attention to jaw issues since they can also cause headaches. If the jaw pain seems to be the cause of your ongoing headaches, you will want to get your jaw pain or TMJ issues treated. 
(No. 4) A CRACKED OR CHIPPED TOOTH
If you have a cracked or chipped tooth, then you need to see a dentist as soon as possible. The sooner you seek treatment, the better chance you have of successful tooth repair.
(NO. 5) A KNOCKED OUT TOOTH OR A VERY LOOSE TOOTH
You'll want to seek treatment as soon as possible if a permanent tooth is extremely loose or if someone accidentally knocks it out. Waiting to fix something like this could cause structural issues or an infection.
(No. 6) A CROWN OR FILLING THAT IS LOOSE OR HAS FALLEN OUT
Crowns and fillings protect teeth from infection, decay, and other issues. When they become loose or fall out, the crown needs to be replaced as quickly as possible for continued protection.
(No. 7)   TOOTH ABSCESS OR EXTREME SWELLING
A tooth abscess is a pocket of pus that's caused by a bacterial infection. An abscess will occur in the gums at the tip or side of a tooth root. If you have an abscessed tooth or extreme swelling, you will want to see the dentist immediately to treat the infection.
SCHEDULE TO SEE YOUR DENTIST IN MAGNA TODAY
If you are experiencing any of these symptoms, you will want to schedule an appointment to see your dentist in Magna as soon as possible. Waiting to address these signs could result in tooth loss, increased infection, advanced gum disease, and much more. Contact Cyprus Family Dental, your Magna dentist today at (801) 250-0203. We'll help get your dental health back on track. Call today!